About Me

I am a licensed clinical psychologist (PSY 25614) and have held a passion towards helping people since beginning my career in psychology in 2006. It is that drive and passion that led me into my work with families, children, teens, and adults. What has kept me in this area of work is the joy that comes with helping people accomplish their goals and work through the areas of challenge that led them into my office. Witnessing growth, transformation, empowerment, and genuine change on a daily basis is such a blessing and honor for me. While we work together, you will know that you are not alone in your struggles and you will feel supported by me in an authentic and genuine way.
---
| | |
| --- | --- |
| Who I Am As A Therapist | I fundamentally believe that healing exists when we can identify our shared humanity, vulnerability, and authenticity and as such, I rely on my training, professional experience, and personal experiences to help guide my work. While many therapists feel it is taboo to share anything about themselves, I am approachable, engaging, as well as open about my challenges with perfectionism and being what I believe would be called, "a difficult" child. Particularly since becoming a mother, I use my own experience parenting to help guide my work and to help my clients feel less alone. My clients often tell me that I balance well the role of helping them feel less alone in their struggles with my ability to still make the session and the work about them and for them. I take this role and our work very seriously but do my best to make our work enjoyable. I am not your typical therapist as I will laugh with you, joke with you, and give you all the space you need to get comfortable before diving deep into insight, growth, and the challenges we overcome in therapy. |
---
| | |
| --- | --- |
| Who I love Working With in Therapy | Currently, I am most passionate about working with parents. Sometimes we are working on parenting strategies that will logically improve their families' lives and often we are working on deeper connections between their own experiences as children and how they are approaching parenting. In sessions, I use a lot of system based theories, Acceptance and Commitment Therapy (ACT), Motivational Interviewing, and recently was trained in SPACE (Supportive Parenting for Anxious Childhood Emotions). All of these help inform my work and lead to me helping parents find a delicate balance between supporting their child with empathy and setting clear and firm boundaries. |
---
| | |
| --- | --- |
| My History | I attended the University of Michigan to receive my undergraduate degree in psychology. Immediately following graduation, I lived in France for one year as an au pair (nanny). While this was a challenging experience at times, it was one of the most rewarding experienced and truly changed the direction of my life! It was there that I realized my passion for psychology and made the decision to attend graduate school. I then attended Alliant International University in San Diego and received my Doctorate of Clinical Psychology, specializing in Child and Family Studies. Since I can remember, I have worked with children and am so grateful that my natural ability to connect with kids, teens, and parents has led me to a career that is so rewarding. |
---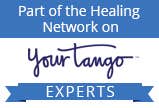 Check out my latest articles on Your Tango
---
5 Ways To Help Your Child Cope With School Anxiety
Help your whole family cope with the stress of returning to in-person or online school.

School anxiety is on another level this year due to the pandemic.
Most parents and students would likely agree that the transition to online schooling this past March was not exactly smooth. So, many will most likely have some level of anxiety about returning to school this fall — whether for online or in person classes.
Returning in person is likely to be anxiety-provoking, due to the long absence from that routine and environment, as well as possible fears about getting sick.
​
Read more by clicking here!
​
12 Signals You're Struggling With Burnout & Need A Break ASAP
You might not even realize you're burned out before it happens.
​
Are you experiencing signs of burnout, or just feel like you're not doing as well as you should?
The world has been a heavy and challenging place recently for all of us. Increased demands to cope while existing in a global pandemic have become complicated by politics, racial tensions, and the existing division in our country.
It pushed you and many other people way beyond their comfort zone of coping. Given this situation, a certain level of struggle is almost expected, unfortunately.
Read more by clicking here!
​
7 Ways To Support Toddlers & Young Children Through Tough Times​
Parenting young children during quarantine can be complicated.
For those of us who are parenting young children during quarantine right now, the struggle is truly real.
It has been — and continues to be — completely overwhelming working, as well as parenting my own toddler.
​I'm hearing the same from the families that I work with at my office (virtually, of course), and thought it might help to compile some of the things that my family has been doing to help support our son right now.
Read more by clicking here!